Designer Christian Louboutin – 2019
Claridge's iconic Christmas tree was created in Christian Louboutin's trademark designs. The 5 metre tree was adorned with bespoke Christian Louboutin decorations, stuffed with presents, abundantly lit and topped off with a gold leaf crown. Scattered throughout the surrounding area, and around the main tree were clusters of smaller trees, equally handsomely decorated which gave this festive makeover its finishing touches.
Designer Diane Von Furstenberg – 2018
Inspired by the designs of Diane Von Furstenberg designed the 'Tree of Love' won over the hearts of the vast clientele at Claridge's. This 6 metre blue iridescent sculpted tree was home to many woodland animals nesting in the 8,000 glistening reflective leaves.
Designer Karl Largerfeld – 2017
Karl Largerfeld's childhood memories inspired Claridge's Christmas tree back in 2017 The 16ft structure was based on a classic Christmas tree, yet inverted and supported by a hidden platform. Topped with a multifaceted mirrored star and chromed tree roots, it gave onlookers a peek into the world famous designer's thoughts.
Designer Sir Jony Ive and Marc Newson – 2016

Sir Jony Ive and Marc Newson envisaged turning the lobby at Claridge's into a  forest. Light boxes were installed round the perimeter with forested images. Multiples of Scots pines were also cast and then scattered around the room to enhance the woodland feel.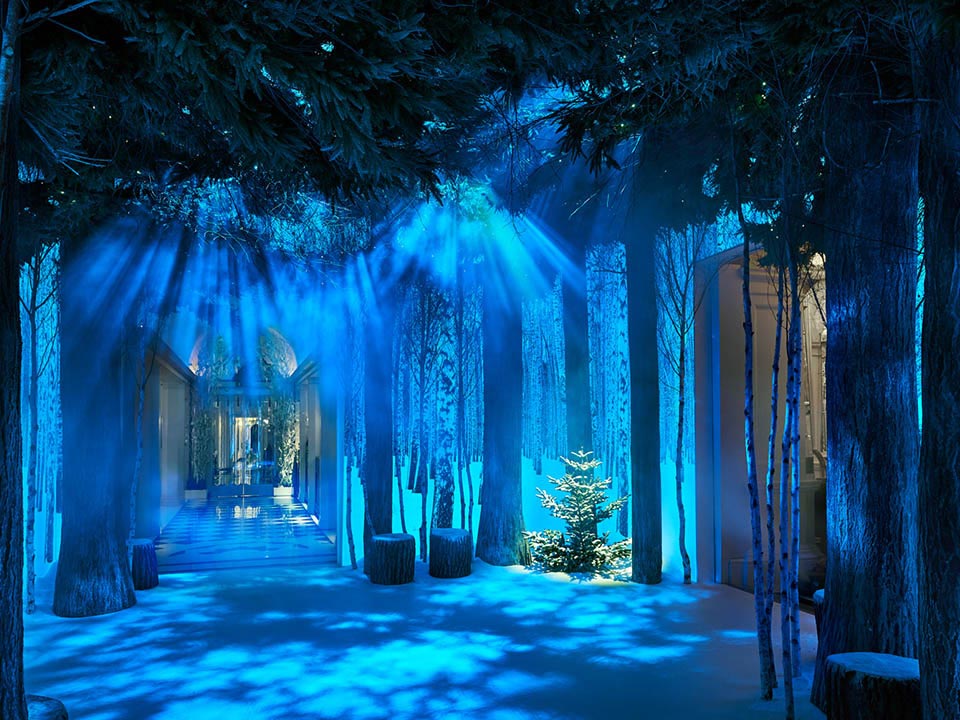 Designer John Galliano for Dior – 2010
Following on from the success of the previous year John Galliano returned but this time with an aquatic twist to the classic Christmas tree. The underwater feel brought pink coral, Seahorses, Fish, Jellyfish and Starfish into the foyer of Claridge's. 
Designer John Galliano for Dior – 2009
From the designs of John Galliano for Dior came this frozen tropical tree bedecked with animals such as Snow Leopards, Dragonflies and Parrots, giving this year's tree a mysterious yet exotic atmosphere.